Wrap-around porches, red-brick mansions, black fences against a background of Kentucky bluegrass. When it comes to southern states like Kentucky, there are certain architectural features of which we expect to see plenty.
The 10 neighborhoods on this list boast myriad examples of the aforementioned features and more. While some are historical and others luxuriously modern, each neighborhood on this list consists of a collection of homes, streets, and parks that appeal to lovers of both architecture and beauty. These neighborhoods are, put simply, the most architecturally charming neighborhoods in the state of Kentucky.
Ashland Park
Lexington

Like so many other architecturally charming neighborhoods throughout Kentucky (including Beechmont, also on this list), Ashland Park was designed around the turn of the century by the Olmsted Brothers, an architectural firm out of Brookline, Massachusetts. Today, the neighborhood is a wonderful collection of various architectural styles and wide curving streets with few right angles (an Olmsted trademark). Walk or drive through the neighborhood and you'll likely find Colonial Revivals, Craftsmen, Bungalows, Tudor Revivals, Dutch Colonial Revivals, Prairie, Georgian Revivals, Spanish Eclectics, French Eclectics, and Italian Renaissance — sometimes all on the same street and interspersed with small parks and green spaces. Not surprisingly, Ashland Park remains one of Lexington's most desirable residential areas.
Beechmont
Louisville

Chock-full of historic neighborhoods, Louisville is home to some of the best architecture in the entire nation. Bigger and wealthier neighborhoods, such as the Highlands and Norton Commons, tend to get all of the attention, though we argue that Louisville's real architectural charm is most present in smaller neighborhoods like Beechmont. Established in the 1890s as a rural getaway from the big city, Beechmont revolves around Olmsted-Brothers designed Southern Parkway, a tree-lined road stretching from the freeway to lush Iroquois Park. The Parkway, which is lined with well-maintained stately brick mansions, plays host to a weekend farmers' market and an annual marathon. Over the years, the neighborhood has been filled in with smaller family homes, including an impressive collection of World War II-era houses. Though the area has experienced some growing pains of late, Beechmont is becoming increasingly popular among young professionals and families, who are attracted to the neighborhood's beautiful homes, artsy vibe, and lower cost of living.
Bell Court Historic District
Lexington

The Bell Court Historic District was established in the late 1890s as a middle-class neighborhood that was close enough to downtown Lexington to allow its residents to walk to work. Today, the 157 homes in this neighborhood are some of the most magnificent and sought-after in Lexington. Most of the homes are Victorian and Queen Anne in style, though homes built in the Greek Revival, Romanesque, and Colonial styles can also be found. The neighborhood also boasts a particularly impressive Gothic Revival-style church. Perhaps the most famous of Bell Court's residential buildings is Bell Place, a beautiful Greek Revival building designed by famed Lexington architect Thomas Lewinski in 1940.
Cherokee Triangle
Louisville

At the heart of Louisville's historic Highlands is Cherokee Triangle, an upscale neighborhood characterized by its big houses and park-like setting. The neighborhood gets its name from its borders: Bardstown Road, Cherokee Park, and Cave Hill Cemetery and Arboretum. Well-established trees provide a lush canopy over the large, well-maintained Victorian houses, most of which were built in the 1890s. Unfortunately, this beautiful neighborhood experienced a downturn in the 1960s, when many of the mansions were turned into apartment buildings. Fortunately, most have been restored into single-family homes and are as stunning as ever. Because of the park, Cherokee Triangle is a popular place for walkers and joggers, while events such as the annual Cherokee Triangle Art Fair provide ample opportunity to show off the neighborhood's architectural charm.
Eastwood
Lexington

One of Lexington's most exclusive neighborhoods is a small one. Indeed, only about 32 people live on Harmony Hill, Eastwood Drive, and Eastwood Lane, the streets that make up the desirable Eastwood neighborhood. Perhaps due to its location just south of historic downtown Lexington, the Eastwood neighborhood is characterized by its traditional red- and white-brick Georgian and Colonial architectural — modern-day versions of Lexington's most charming historic buildings.
Germantown
Louisville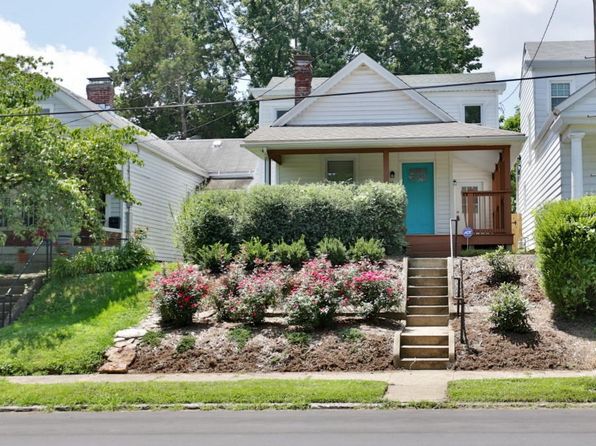 Like Beechmont, Louisville's Germantown neighborhood is another architectural gem that is often overshadowed by the bigger neighborhoods. Developed by German immigrants in the 1850s, Germantown is best known for its impressive collection of shotgun houses, many of which have been lovingly restored or renovated in recent years. A healthy collection of pub-style bars and grand Catholic churches round out the architectural charm. The neighborhood has recently become very popular among investors and young home buyers alike, all of whom — we hope — seek to maintain Germantown's unique historical and architectural traditions.
Gratz Park Historic District
Lexington

Characterized by its grand 19th-century townhouses with their colorful facades, the Gratz Park Historic District is one of the most tranquil and beautiful areas of downtown Lexington. The neighborhood consists of 16 buildings, the most impressive of which include the Hunt-Morgan House, the Bodley-Bullock House, and the Carnegie Library. At the northern edge of the park is the "Fountain of Youth," a gorgeous monument dedicated to the memory of Lexington author James Lane Allen. Finally, the neighborhood park is a beautiful example of 1800s landscape architecture, and in the words of Kentucky architectural historian Clay Lancaster, has "charm, atmosphere, a sense of tranquility and of history, and it provides an oasis of planting tucked into the cityscape."
Historic District
Harrodsburg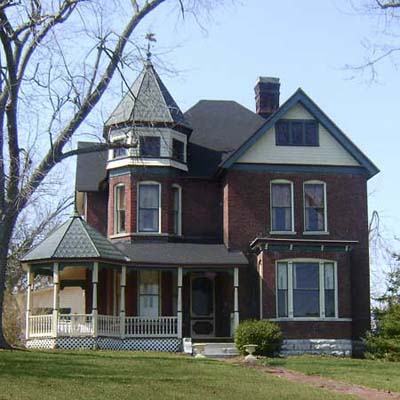 Harrodsburg's oldest neighborhood, its Historic District, was  founded in 1774 as the first permanent English settlement west of the Alleghenies. As such, the neighborhood is characterized by a wonderful English-influenced architectural style unique to Kentucky. Greek Revivals are the district's most sought after homes, though Colonial Revivals, Queen Anne's, and Craftsmen are also impressive and popular. Downtown, many of Harrodsburg's beautiful turn-of-the-century commercial buildings have been given new life in recent years thanks to facade-improvement grants offered to anyone willing to do something interesting with the buildings. On the outskirts of town, rolling hills, hand-laid stone walls, and magnificent horse farms round out the architectural charm of beautiful historic Harrodsburg.
Historic Downtown
Bardstown

Bardstown is a charming small town located about 30 miles south of Louisville. The story of its long and fascinating history could almost be told by its stunning Historic District, 26 blocks consisting of nearly 300 properties that date back to the 18th and 19th centuries. Some of the best examples of restored or renovated historic buildings include the Nelson County Jail, Old L & N Station, Spalding Hall, and the Old Talbott Tavern, each of which also appear individually on the National Register. Nearly half of Bardstown's architecture is Federal or Georgian in style, though it's apparent that just about every home and building in the Historic District has been carefully preserved for visitors to enjoy both their history and architecture.
Old Louisville
Louisville

The architectural gem of Louisville is undoubtedly Old Louisville, one of the city's oldest neighborhoods. Located a few miles from downtown, the neighborhood was established as a wealthy suburb in the 1870s. Today, huge Victorian mansions on the tree-lined streets, are interspersed by corner markets, restaurants, schools, and the University of Louisville campus. Perhaps the best examples of Old Louisville's stunning Victorian architecture can be found in St. James Court, an historic cul-de-sac that still boasts an old fountain and traditional gas-light street lamps. Bordering St. James is Central Park, host of a summertime Shakespeare in the Park series and an annual Autumn art fair that is one of the most popular events in the entire city. A few years ago, a mansion in Old Louisville could be purchased for less than $200,000. Today, a renovated Victorian in the heart of this beloved historic neighborhood would cost one well over a million.
Save